Charcuterie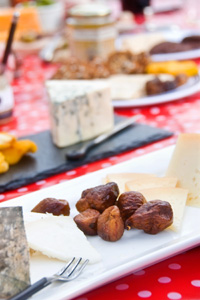 We offer sliced to order meats, including La Quercia Berkshire pork prosciutto, Salame, La Quercia Coppa Picante, Lonza, and Iberico Ham when seasonally available. We also offer a great selection of frozen meats, including gourmet sausage, rabbit, duck confit, local organic pork, game-hen and grass-fed beef.
We also carry a variety of excellent salames by Olympic provision, salametti's from Molinari, and Rougie rillettes and pates, many of which are cut to order. We're committed to sustainability and to offering the highest quality organic products we can find, including organic heritage turkeys during the holidays.
Seafood
We proudly offer Ortiz tuna and anchovies, which are sustainably harvested using traditional Spanish fishing methods and packed with care in high quality oil and brine. We also offer seasonal smoked seafood, caviar, and smoked Salmon.