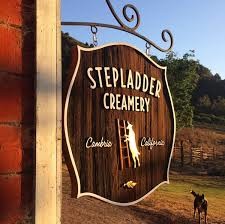 Stepladder Ranch Ragged Point
Everyone loves a triple crème so we're as excited as you are to introduce this one from Stepladder Creamery. Stepladder was founded in 1871 and has been family-owned and operated for three generations. About 100 years ago, the ranch was a part of the Harmony Valley Creamery Association, a network of immigrant Swiss and Italian dairy farmers that grazed cattle on the lush coastal valleys of San Luis Obispo County. This Association was born out of a drought that forced ranchers to rethink how to make a living off of their land—a concept that today seems as prescient as it did a century ago.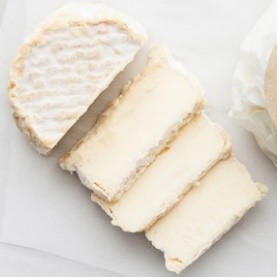 Ragged Point is a small format, bloomy rind, cow's milk triple crème named for the gateway to Big Sur, just North of the farmstead. As Ragged Point ages to four weeks and beyond, it acquires a peppery character and a distinct cream line forms underneath the rind. Enjoy this cheese with apples, honey, crusty bread and a good sparkling wine.
Le Montagne de Bethmale
The cheeses produced by Jean Faup are some of my favorites. This creamery, located in the Pyrénées of southwestern France, has been making cheese for generations.
Today, managed by Didier and his daughter Virginie, Fromagerie Jean Faup draws its expertise from five generations of practice and craft, with a mission to:
bring ancient traditions back to life and preserve them.
preserve and enhance the fragile environment.
produce a cheese with exceptional qualities.
Le Montagne de Bethmale is an exceptional cheese, among our favorites at The Gourmet Cellar. It's a washed rind, pasteurized cow and goat cheese, and it isn't often that we've been able to stock this cheese. Naturally, we are very happy to re-introduce to our Cheese Club members. The rose petal confit would be a delightful accompaniment, and a handful of raspberries! For a wine, try a Spanish Godello or a lighter CDR like Piaugier.
"A cheese to please." –San Francisco Chronicle.
Petit Coeur du Bray
Of course we had to include a cheese heart! A couple of bites of French brie to celebrate the holiday!
Matin des Pyrénées Rose Petal Confit
A bouquet of roses in a jar! This natural jelly is the pure embodiment of rose; delicate and romantic. Try with any of this month's Cheese Club cheeses.