Coupole – The "Cerebral Cheese"
Beneath those brain-like wrinkles known as geotrichum in the cheese world, is another amazing goat cheese from Vermont Creamery. Coupole is made using pasteurized goat milk gathered from family farms in Vermont.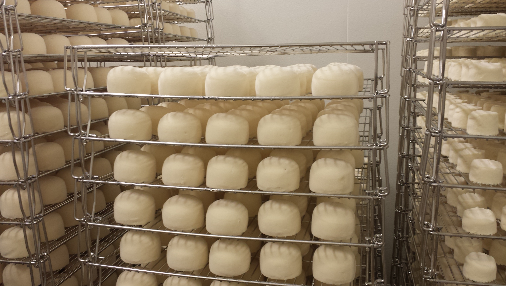 I adore the cheeses from this creamery and feel honored to have visited. The picture of the rack of Coupole was taken in the aging room. This is before they developed their brain power. Couple's allure is attributable to the intriguing contrast between the strong ripened flavor of the rind and the delicious creaminess of its interior. This is a cheese that is beautiful inside and out! Serve with fresh strawberries and a sparkling wine.
Holzhofer Hostettler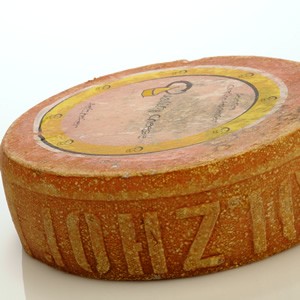 From our favorite Swiss affineur, Rolf Beeler, is our other cheese for May, Holzhofer Hostettler. The Holzhof farm in Bissegg once operated as a farm, beer brewery, restaurant, and starch producer. In 1869 a dairy was built at the Holzhof and from there on it was only agriculture and cheese making. The first Tilsit was produced there in 1893.
Now Otto Wartmann is the fifth-generation cheese maker. This raw cows' milk cheese is aged 8 months in the former beer cellar. Though I did not notice any beer flavors, the rind does have some malty aromas. The cheese is Gruyere–like in texture and flavor. It reminds me of a rich custard based ice cream in cheese form. Deliciously buttery and nutty. Serve with an Alsatian white, a rich red, or hearty dark beer.
Torres Black Truffle Potato Chips
And… just for a treat and because it's around Mother's Day… black truffle potato chips from Spain. Why not?! Do they go with the cheeses? Maybe the Coupole but I would serve with sparkling wine.  Just potatoes, truffles, sunflower oil, and salt in these chips.  No preservatives or artificial colorants, this is just delicious truffled potato chips with a perfectly crunchy texture from Barcelona, Spain.  Gluten free.
Bon Appetite!