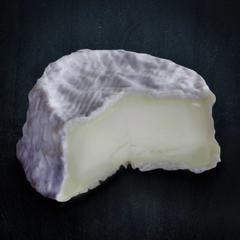 This month we have two beautiful cheeses from Ancient Heritage Dairy in Portland, Oregon. The name takes its inspiration from centuries of artisan cheese making in France, Italy and Spain. They create award-winning cheeses that exemplify time-honored European methods while showcasing the finest of Oregon's sustainable food heritage.
Ancient Heritage Dairy Adelle
The first is Adelle, a soft-ripened, bloomy-rind cheese made with pasteurized cow and sheep milk. It is light with a fluffy texture and flavors of butter and citrus. This creamy, smooth cheese melts in the mouth and would be delicious served with an IPA, a sparkling wine or, if you prefer a red with your cheese, a Pinot Noir.
Ancient Heritage Dairy Willow Creek
The second cheese from Ancient Heritage is not only beautiful, a Merlot grape leaf adorns each wheel, but incredibly delicious. Willow Creek is another blend of cow and sheep milk but this time using raw milk. Each wheel is washed in red wine, hence the grape leaf, and aged 90 days. It is semi-soft with earthy flavors of wild mushroom and a fruity edge.
I would again pair with bubbly, Pinot or Beaujolais. If you're back to your sunny-weather regimen, a minerally chardonnay or a cold Belgian wheat beer would also do the trick.
Erborinato Sancarlone al caffè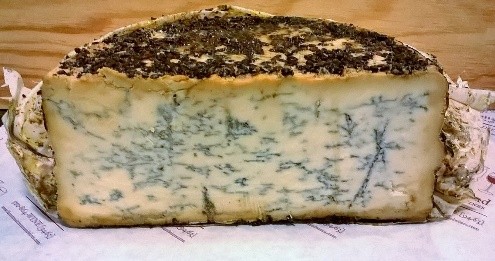 Erborinato Sancarlone al caffè is this month's third and very special cheese from Piedmonte. This exotic, blue-veined cheese is rubbed with coarse-ground coffee and has a dense, fudgy texture reminiscent of a hearty mountain Gorgonzola. Aged in the caves of the affineur Luigi Guffanti, this blue is a variation of Novara-style blue cheese, the town where  Guffanti gets the milk for this blue. The patron saint of the Novara is Saint Gaudentius, once the bishop of Novara. Tradition maintains that he was born to a pagan family at Ivrea, and was then converted to Christianity by Eusebius of Vercelli. It is, after all, Easter month. Maybe this is the blue that will convert you into a fanatic turophile. I would serve with a structured Barbaresco for dinner or chocolate and Port afterwards.