Uncorked is Livingston's only wine bar, serving the finest wines from all over the world as well as craft beers, cheese and charcuterie specials. Saturdays offer wine tastings at the adjacent Gourmet Cellar featuring wines from a different region each week and a chance to discover something new.
As summer approaches, Uncorked will be expanding the music offerings to include Thursdays and Fridays with an occasional Saturday thrown in—music starts early, at 6 pm, making Uncorked the perfect spot to stop in after work. May begins a summer of first Fridays with Montana Manouche. Put this on your calendar to enjoy a glass of wine and a delicious special from the always changing menu at Uncorked.
When the weather cooperates, the performers will set up outside under the historic portico of the Livingston Depot. There's no way to know when that will happen, but here's a listing of upcoming music at Uncorked:
Thursday, May 4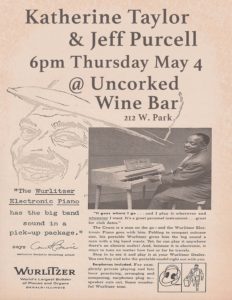 Katherine Taylor and Friends – Country Blues
A native of Mississippi, Katherine is a folk music devotee with country, blues, and gospel running deep. Her childhood was rich in church music and choral singing, and while in college, she was exposed to string band music for the first time. This began a lifetime of exploration and reconnected her to that Deep South and Appalachian heritage. She enrolled in East Tennessee State's Bluegrass, Old Time, and Country Music program and began writing songs on guitar and banjo. She then settled in Memphis, Tennessee, soaking up the Mississippi River sounds before making the journey west to the Gunnison Valley of Colorado.
Katherine co-founded the female folk trio, Free the Honey, and enjoyed several years making records and touring. She is dedicated to the craft of song composition, and years of roaming around the Southeast and Rocky Mountains continue to inspire stories and melodies. Place is a vital influence in her writing and music made with friends and family a medicine for the times.
Friday, May 5
Montana Manouche – Gypsy Jazz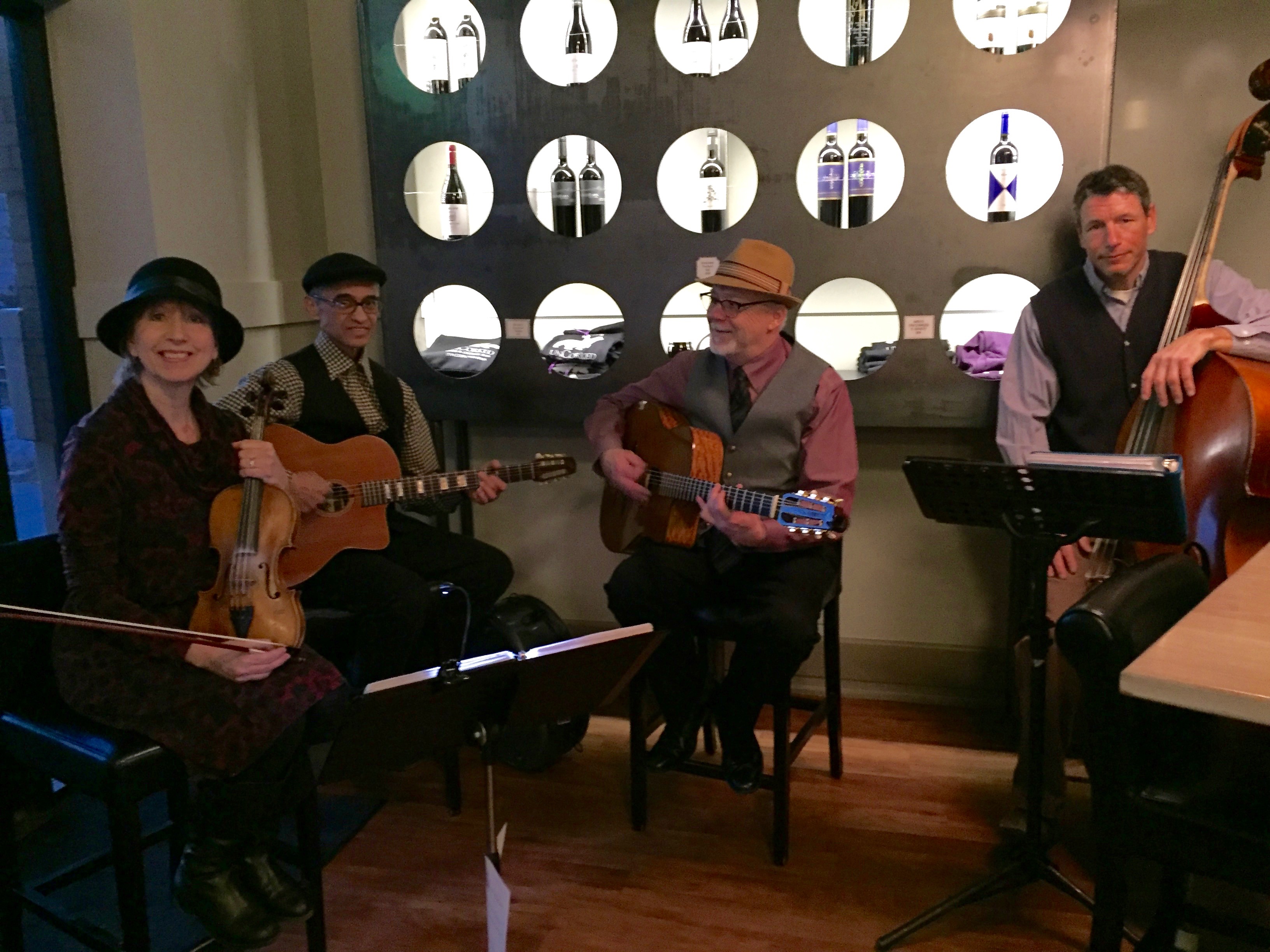 Montana Manouche plays swinging instrumental Gypsy Jazz music in the style of Django Reinhardt. The tunes are joyful and elegant, reminiscent of music played in Paris nightclubs in the 1940s. Check out video and audio clips at www.montanamanouche.com and on their Facebook page.
Thursday, May 11
Erin & the Project – Soul R&B
This exciting touring-turned-local act, Erin & the Project, promises an intimate evening of soulful sounds.
Friday, May 12
Bob Britten – Jazz/Eclectic Piano
Bob Britten performs jazz/variety piano in the Bozeman area and plays lead guitar with The Hooligans.
Saturday, May 13
Denny Earnest Duo – Roots/Blues
Denny Earnest is a composer and consummate musician. He brings a blues sensibility to his work and performs both original and cover tunes. A skilled guitarist, he's been a Paradise Valley favorite for a long time.
Thursday, May 18
Virginia Warner – Blues
Virginia Warner is a singer/songwriter with a passion for Delta blues. Her performances showcase both original material and traditional, fingerstyle blues songs fueled by the powerful mojo of a vintage Gretsch archtop guitar with a neck like a baseball bat. She's been performing in taverns and at music festivals throughout the greater Yellowstone area since the early 1990s.
Friday, May 19
Matt Ridgeway – Classic & Latin Jazz
Matt is a very talented jazz musician and composer. He'll be joined by John Morford on bass. Matt and John also perform with the Swingley Jazz Project and may have a special guest with them!
Thursday, May 25
Quenby Acoustic Duo – Texas Roots
Quenby will be playing songs both from her latest release, "Pretty Little Thing", recorded with friends and collaborators in Austin, Texas and from her debut album, "Long Time Comin'" in `09.  Her style borrows from influences like Wanda Jackson, the Mavericks, Dwight Yoakam and Patsy Cline and spans genres, old rock n' roll, roadhouse country, gentle stylings of classic country, hard-driving stomp of outlaw country, plus add a little Tex Mex and a Cajun for a true American roots experience. quenbywowband.com, https://www.youtube.com/channel/UC8iTVvVBucWLWCURyu6gtfQ
Friday, May 26
Ian Thomas – Americana Roots
After traveling for years as a street performer, Ian Thomas began performing 'indoors' in New York City, where he recorded his debut album "A Young Man's Blues" and his follow-up "Live at Rockwood Music Hall." Since then, he has shared the stage with Taj Mahal, John Hammond, Cyril Neville, Corey Harris, Sam Bush, The Wood Brothers, The Avett Brothers, Carolina Chocolate Drops, Reverend Goat and Dr. John and has performed at festivals, including Bonnaroo, Pickathon and Bristol Rhythm & Roots Reunion. Performing both solo and with a band, Thomas draws on a variety of American roots influences, delivering a captivating raw live performance and distinctive sound from his original compositions on guitar, harmonica and kazoo. His latest release is the full-band album "Live at the Preservation Pub" recorded in Knoxville. www.IanThomasMusic.com, www.reverbnation.com/ianthomasmusic, www.facebook.com/ianthomasmusic, www.facebook.com/bandofdrifters