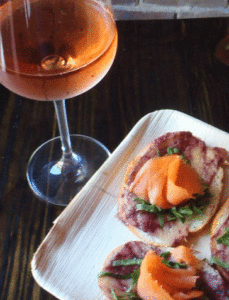 Reserve your place for a special meal of creative vegan dishes from Tina Struble with wine pairings. December 3rd, 6:30 pm at Uncorked.
Tina, former chef/owner of Livingston's Nightspot Cafe, is a lifelong advocate of a plant-based diet and cuisine. She recently returned after eight years of developing vegan dishes and techniques for popular vegan restaurants in NYC and Seattle. She has created a menu of small plates for this exclusive dinner to be paired with wines at Uncorked.
RSVP required, price pending, phone (406) 222-5418.
This is the menu we are putting together. May be a couple of changes as we fine tune.
Uncorked Vegan & Wine Tasting Menu
Vegan Cheese plate
Coconut Chevre (cultured) with herbs
Sundried Tomato and basil Cashew Cheese (cultured)
Smokey Shallot and Black Pepper Cashew Cheese (Agar-based)
Wild Mushroom Pâté
Western Kim Chi Bruschetta
Butternut Squash and Kale Pot Pie with maple glaze
White Corona Bean and Wine Sauce with fried Sage on Pasta
Roast Chile and Cashew Cheese Tamale
House Pickled Beets with Coconut Sour Cream and Mint leaves
Dessert – Chai Cheesecake Bites garnished with chocolate shavings