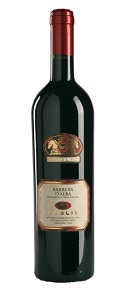 $25 Level
Barbera D'Alba, Italy 2014
Veglio Michelino e Figlio is a small, family owned and operated vineyard located in Piedmont, northwestern Italy. This 100% Barbera is refined in oak for over 6 months. It has a complex nose, with smoky dark cherry and berry fruit aroma and is a smooth medium bodied red with a soft, round mouthfeel and complex layers.
Its stronger alcohol content makes it a good match for red meats and strong cheeses and perfect with a tomato-based pizza when you are tired of holiday foods.
Both Levels
M. Chapoutier Côtes du Rhône Belleruche Rouge, 2014
This Côtes-du-Rhône Rouge blends Grenache and Syrah grapes for a garnet red wine with aromas of red fruits, licorice and pepper spice. It has a soft tannin base, medium body, and subtle Morello cherry flavor that would complement roast meats, rich sweeter side dishes and smoked meats and cheeses. Great for roast turkey too!
OR
M. Chapoutier Côtes du Rhône Belleruche Blanc, 2015
A blend of Grenache Blanc, Clairette, and Bourboulenc grapes, this rounder white is one of our favorites at Gourmet Cellar. With notes of green pear, white blossoms and citrus it's an easy quaffer or a fine pairing with most poultry, seafood and cheeses.
$35 Level
AVERÆN Pinot Noir, Willamette Valley 2015
AVERÆN was born out of love for cool climate Pinot Noir. Oregon's Willamette Valley offers an ideal growing climate, where strong winds blow from the nearby Pacific Ocean, and the mix of ancient volcanic soils and marine sediments from a prehistoric ocean floor lend intense minerality and complexity to the Pinot Noir grapes grown on them. Simple sustainable farming, hands-off winemaking and a passion for Pinot Noir dictate our mission.
The name, pronounced AY-VUH-RAIN, is the winery's interpretation of "Bird Queen" which is loosely inspired by the Latin word avis for bird and French word reine for queen (Latin root regina). I found this Pinot true to an Oregon Pinot… lovely notes of raspberry and strawberry, some fig and wet leaf notes and a brightness that will make it a perfect food pairing wine. It's also fine to just open and drink. Love a good Oregon Pinot and this is a winner at a very reasonable price point! Another great choice for turkey dinner!