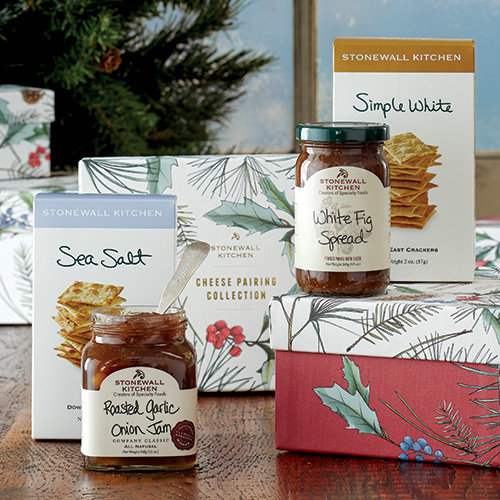 Featured Pantry Staples
Stock up on Stonewall Kitchen's fall essentials to enhance holiday meals, leftovers and family visits. The Gourmet Cellar has Stonewall Kitchen's Cranberry Relish and Cranberry Horseradish Sauce for your holiday meals, Pumpkin Butter to top French toast or ice cream, and grab a box of Pumpkin Waffle Mix and Pumpkin Cheesecake Bar Mix to have around for guests or lazy mornings.
We've got your hostess gifts covered with Stonewall Kitchen's grab & go gift boxes including: Cheese Pairing Gift Box, Cocktail Party Gift Box, and Blueberry Breakfast Gift Box.
Featured Cheeses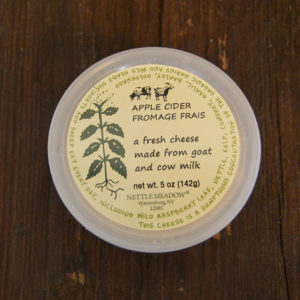 Nettle Meadow's mini fresh cheeses in fall flavors – your perfect portable holiday appetizer.
For those of you who've had Nettle Meadow's amazing Honey Lavender Goat Cheese, you know they make luscious cheese. Just in time for holiday parties, we are carrying two of their fresh cheeses made from goat and cow's milk with autumnal flavors of apple cider and cranberry. Simply pop open a container and serve with our Kii Natural's Date & Walnut Crackers for an effortless, fabulous appetizer at any event—or a lovely quick lunch at your desk with sliced sausage. These cheeses are also a ready dessert on shortbread or ginger snaps with sliced apples or dried fruit.
Featured Recipe
Stonewall Kitchen Cranberry Horseradish Sauce Leftover Turkey Sandwich
Spread Stonewall Kitchen Cranberry Horseradish Sauce and Nettle Meadow Apple Cider Cheese on your favorite bread (or leftover rolls), add a thick layer of arugula or lettuce, leftover dressing and slices of turkey, and dig in!