Friday, October 28
Vintage Green – Blues/Folk
Vintage Green is a musical duo hailing from the Paradise Valley. In addition to their own songs, they put an original twist on old musical favorites from all eras. Fun for everyone! Singer Jesscy Dean was previously a member of Bramble & Rye.
Saturday, October 29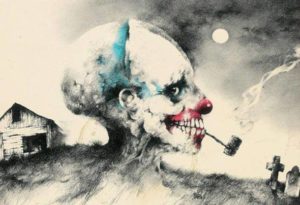 LeeWord – Spooky Stories at Uncorked
The first of our LeeWord (lean into Livingston's wind with words) events scheduled for the last Saturday night of the month this winter at Uncorked Wine & Cheese Bar. Five folks telling 5–10 minute personal narrative stories in the "Moth" tradition.
Our team from Elk River Books and Uncorked will pick the top five stories from synopses submitted ahead of time, and those five will tell their stories between 7 and 8 pm.
LeeWord will continue with a theme for storytelling each month. If you'd like more info or to participate, the mastermind and contact for LeeWord is Adam Boehler. If he's not in, talk to Debbie.
Friday, November 4
Walcrik – Folk/Bluegrass
Bozeman based folk/bluegrass duo playing original, traditional and cover music. www.walcrik.com
Friday, November 11
Denny Earnest – Roots/Blues
Denny Earnest is a composer and consummate musician. He brings a blues sensibility to his work, and performs both original and cover tunes. A skilled guitarist, he's been a Paradise Valley favorite for a long time.
Uncorked is located at 212 W. Park Street in historic downtown Livingston, Montana and can be reached at (406) 222-5418. Stop in for specials including wine tastings, cheese and charcuterie, beer and wine.