Featured Cheese
Perlagrigia cheese with Truffles is back!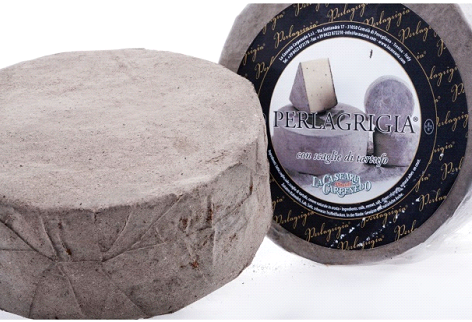 Perlagrigia (or Sottocenere) is a favorite Italian artisan cheese made from cow's milk in Veneto, outside of Venice. Perlagrigia means "gray pearl" because this semi-soft cheese is covered with a fine layer of ash. This vegetable ash is mixed with ground cloves, cinnamon, nutmeg and other locally grown spices and rubbed with truffle olive oil creating a flavorful and moisture-preserving edible layer. This subtle spice element complements the rich black truffles that infuse this silky smooth cheese. We recommend, as with most of our cheeses, bringing Perlagrigia to room temperature for a bit before serving to maximize the rich flavors and delicate texture.
Perlagrigia can star in your next cheese plate with garden tomatoes, spicy sausage, apple slices, and your favorite Quince & Apple preserves and crackers from the Gourmet Cellar. It would also kick up the flavor in a sandwich of leftover barbeque meat or vegies with garden greens and one of the Gourmet Cellar's popular mustards. Perlagrigia would also pair wonderfully with dark chocolate and one of July's wine club reds for an easy, satisfying dessert.
Featured Gourmet Cellar Pantry Staple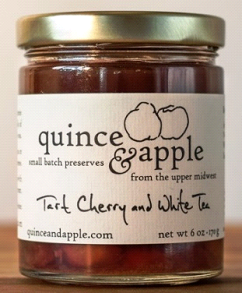 Gourmet Cellar has three of these artisanal preserves; Peach with Chamomile, Tart Cherry and White Tea, and Orange Marmalade with Lemon. Grab all three to have on hand as the perfect hostess gift, and pantry staple to complement your cheese and dessert plates, summer recipes and morning toast!
The versatile Tart Cherry and White Tea preserve can be used in cocktails like *Tart Cherry Sparkle or appetizers like *Cherry Goat Cheese Spread in addition to being drizzled over cheesecake, to accent roast chicken, or improvise a petit four by layering Tart Cherry between squares of sponge cake.
The Peach and Chamomile preserve would be great on a sandwich with ham and brie, served on a cheese plate with aged Gouda or our featured Perlagrigia, stirred into oatmeal or yogurt, or spread on pancakes and served with sliced peaches and cream.
Try the Orange Marmalade with lemons in recipes including: *Orange Marmalade Scones with Almonds and Fennel and *Orange Salad with Marmalade Dressing, or pair with Ricotta, Asiago, or young cheddar, spread Marmalade on toast, English muffins or a fresh baguette, or fill crepes with Marmalade and mascarpone.
See, you DO need all three flavors! *The above recipes and more may be found on Quince & Apple's website. We'd love to hear about your favorite pairing or recipe you've created with your Quince & Apple preserves.