Featured Cheese

Seebodenalp Kӓse
This month we offer an encore of aged raw cow milk gruyere from Rolf Beeler, "Switzerland's Pope of Cheese": Seebodenalp Kӓse. For those who enjoyed last month's Beeler-aged Appenzeller, this cousin is named after the Swiss Alps meadow "Seebodenalp" where its milk is sourced. Seebodenalp Käse is produced in a copper cauldron, then washed daily with apple wine, which lends a hint of sweetness that balances the subtly sharp tang and earthy, nuttiness of this cheese.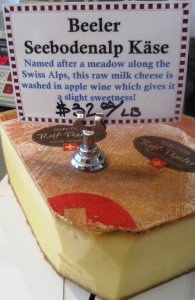 The semi-firm, smooth nature of this cheese makes it easy to slice and share at a picnic or as an appetizer. If you'd like to improve your cheeseburger game, this cheese melts luxuriously and complements both game and beef burgers.
Keep a good wedge of this staple cheese around to include in your picnic basket, serve with apples as a light but satisfying appetizer (or dessert!) for summer guests, or to top anything on the grill (think summer squash, zucchini, portabella mushrooms or asparagus in addition to burgers) for a complex, creamy enhancement. Seebodenalp is also wonderful with this month's Wine Club wines.
Featured Gourmet Cellar Pantry Staple
Organic Balsamic Vinegars from Ritrovo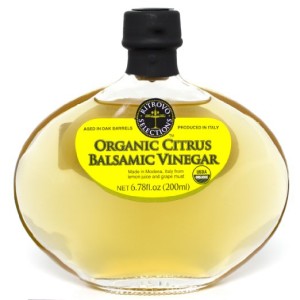 We have Citrus and Apple in bulk and Citrus and Raspberry in collector decanters. A versatile organic staple in three diverse flavors, these Italian balsamic vinegars are aged in oak barrels and add clean, bright zest to a host of summer dishes. Pick your favorite bottle and flavor (or collect all three) and season dishes with a flick of your wrist without additional condiments, herbs or spices. Try the Citrus on white beans with greens, Apple for pork or game marinades, and Raspberry on June strawberries or sliced peaches.