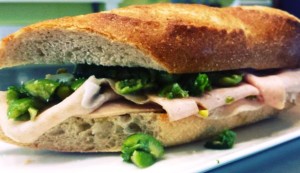 Your easiest option is always to call ahead, tell us what you like, and we'll take care of you with sandwiches – like our featured Rosemary Ham from Paul Bertolli's Fra' Mani with fig jam, spicy mustard, arugula and fontina on Lauren's homemade baguette from Livingston Food Resource Center with chips or arugula salad – our crudité plates featuring housemade beet deep with roasted garlic and preserved lemon, savory bean spread for vegans, or a curated charcuterie and cheese selection.
Picnic Provisions
Outfit your outdoor adventure with a picnic of these great Gourmet Cellar supplies chosen for their balance of flavors, textures and nutrients. Start with Groix & Nature Rillettes (choose from Trout, Crab or Peppered Sardine), add the healthy new Firehook baked multi-grain crackers (Za'atar or Flax: no preservatives! no trans fats!), featured Seebodenalp Kӓse cheese (sliced thinly, it brings velvety texture and distinctive flavor), Gourmet Cellar's popular Greek mix olives (or choose Castelvetrano olives for people who prefer a less briny, mild and buttery olive) and a side from our selection of artichoke or eggplant spreads.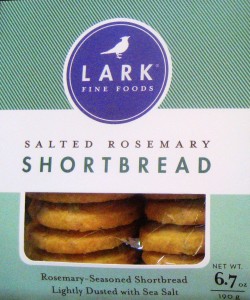 For dessert pair Nettle Farm's unsalted Honey Lavender Fromage Blanc goat cheese with either Lark's ("Cookies for Grownups") salted rosemary shortbread or Mighty Ginger cookies for the best, and most picnic friendly, deconstructed cheesecake you'll taste. Need bonus sweets to keep you going all day? Try the addictive L'Abeille Occitane Honey candies (big flavor, small bite) or Vosges' Smoke & Stout Caramel Bar with a savory caramel in crisp dark chocolate.