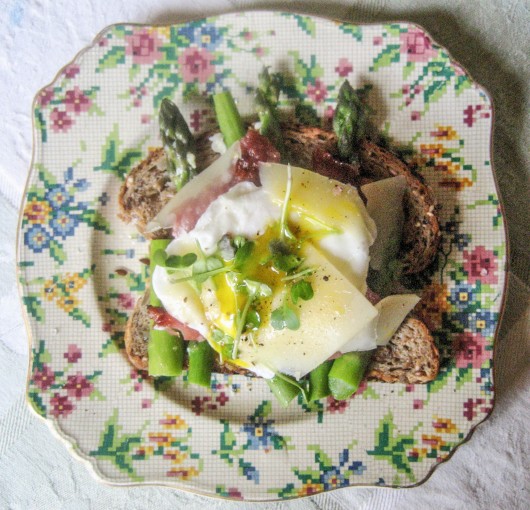 Items in bold are available at The Gourmet Cellar.
Ingredients to serve 4 people
4 large slices (or 8 small) of your favorite bread, toasted (& buttered if you wish)
1 bunch of large asparagus, trimmed, steamed and sliced lengthwise
4 poached eggs (preferably local eggs)
8 slices La Quercia prosciutto (skip to make dish vegetarian)
¼ # Rolf Beeler Appenzeller cheese, sliced thinly
2 TBL Italian Casina Rossa Extra Virgin Olive Oil pressed with pure fresh lemon
1 teaspoon crushed pink peppercorns
Blue Persian salt, to taste
Optional garnish: microgreens or baby arugula
Directions
Once you've toasted your bread, poached your eggs and steamed your asparagus, find your prettiest plates and begin layering your breakfast.
For each serving: place the toast on the plate, top with a quarter of the asparagus (flat side down), drizzle ½ teaspoon of the lemon olive oil on the asparagus, top with several slices of prosciutto, carefully place a poached egg atop, then slices of Appenzeller cheese (the warm egg will slightly melt the cheese) and finish with blue salt and pepper to taste. Optional: sprinkle with your green garnish.
This simple dish can be enjoyed at room temperature or eaten outdoors, and if served to your mother, will probably earn you a hug and kudos. It will also pair nicely with the May wine club Azul y Garanza: Viura 2015 or let us help you choose a sparkling rose' or champagne to celebrate both your mother and spring.