$25 LEVEL
This month you have a choice between two lovely South African wines from Indaba. We don't get many wines from South Africa, so it's always a treat when we find them, especially at a modest price point.
Sustainably grown, Indaba wines are crafted in the Cape Floral Kingdom by wine maker Brewer Raats.
White option
Indaba Chenin Blanc
This Chenin Blanc (the most widely planted grape in South Africa) is a dry white with tropical nuances and a rounder body that could hold court with a hearty meal. Great with halibut, seafood bisque or a grilled cheese made with raclette and a delicious chutney.
Red option
Indaba Mosaic
Mosaic is a Cabernet Sauvignon-based blend which is dense and juicy. Blackberries, dark chocolate and soft tannins make this wine an easy drinker. A great springtime red, try pairing it with pulled pork, lovely Spanish cheese like Campo Montalbán or some grilled portabellas. YUM!
Both Levels
We sampled this wine months ago and are really happy to be offering it for Wine Club.
Aguijón de Abeja
Translation "stinger of the bee." As Deb would put it, "This Malbec is so good you will feel its sting in the morning… because how could you NOT finish the whole bottle."
Dark and spicy with hints of black pepper and a gorgeous velvety mouthfeel. This Malbec is structured and elegant without the boozy characteristic that can sometimes haunt this varietal.
Enjoy by itself or make the Meat Loaf featured this month on our blog!
$35 LEVEL
Zaca Mesa Syrah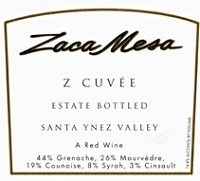 With over 40 years of growing experience in the Santa Ynez Valley, Zaca Mesa farms their vineyards to focus on terroir driven wines. The first to plant Syrah in Santa Barbara County, they have been growing Rhone varietals since 1978. This wine is made with grapes that are estate and sustainably grown, and it's amazingly good.
At The Gourmet Cellar we generally favor "old" over "new world" wines, but this one we loved. It has a European style and is made like Côte-Rôtie with a little Viognier. (94% Syrah, 6% Viognier)
This 2010 Syrah displays bright blackberry, wild-berry, flowers, mocha, pepper and a hint sage spice. The silky finish lingers with just a touch of smoky oak. A traditional pairing for this wine is a rack of lamb marinated with rosemary and garlic. Check out their website for more pairing ideas. We love that they focus on food and wine with a great, easy-to-read chart.
Normally $25, sale price $18.50. Wine Club members receive an additional discount. We bought all the distributor had, so grab it while you can!