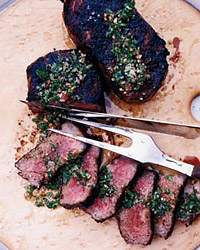 While we can… let's grill once more! This is a great recipe that can be done with game or beef and will be perfect with any of this month's Wine Club reds! The items listed in bold are available at The Gourmet Cellar. Cheers!
Ingredients
1/2 cup vegetable oil
1/2 cup extra-virgin olive oil
2 tablespoons white wine vinegar
1/2 cup chopped parsley
1/2 cup chopped cilantro
4 *Piquillo peppers (from a jar), chopped
4 garlic cloves, minced
2 tablespoons minced onion
1 tablespoon fresh lime juice
2 teaspoons crushed red pepper
Salt and freshly ground pepper
Ten 10-ounce strip steaks, cut 3/4 inch thick
2 tablespoons unsalted butter, melted
Durango smoked sea salt and black pepper
Directions
Light a grill. In a medium bowl, whisk the oil with the vinegar. Stir in the parsley, cilantro, piquillo peppers, garlic, onion, lime juice and crushed red pepper. Season the chimichurri with salt and pepper and let stand for at least 20 minutes.
Brush the steaks on both sides with the butter and season them with the smoked salt and pepper. Grill the steaks over moderately high heat, turning once, until nicely charred and medium-rare, about 8 minutes. Transfer to a platter and let rest for 10 minutes.
Cut the steaks into 1-inch-thick slices and arrange them on the platter. Spoon some of the chimichurri sauce over the steak and serve, passing more smoked salt and pepper along with the remaining chimichurri sauce on the side.
*Piquillo peppers are sweeter and smokier than red bell peppers.
Make Ahead
The chimichurri sauce can be refrigerated overnight. Bring to room temperature before serving.
Recipe adapted from July '07 Food and Wine.