Both Levels
Choose one, Cusumano Insolia or Cusumano Nero d'Avola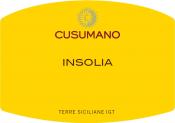 I am very excited to reintroduce one of my favorite whites from Sicily for wine club this month. This is an adventurous wine for your 2014 drinking-outside-the-box experience. The varietal is Insolia and is grown in western Sicily and is also used as a blending grape in making Marsala. If you love a bright, crisp wine with more complexity to it, you will love the Cusumano Insolia. Light straw in color with aromas of freshly-picked flowers and herbs, this wine breathes sunshine and warmer temperatures. It opens up on your palate with refreshing flavors of pear and citrus zest. I served it with a seafood sauce over lemon stringozzi. Delicious!
The red option: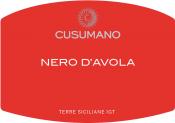 Cusumano Winery is spearheaded by two brothers whose value of artistic excellence and passion for detail have driven them to create a bright explosion of innovative wines! And Cusumano Nero d'Avola is no exception. Capturing the essence of the vineyards' many microclimates, this native grape of Sicily is manually selected in the rich, white soil vineyards of San Giacomo. Deep ruby red with violet reflections, this Nero d'Avola entices the palate with jammy, ripe fruit followed by a wave of black spices. It's perfect for meat-based meals. Another wine for your 2014 wine adventure.
$35 Level Main Selection
2008 Two Angels Petite Sirah
The 2008 Two Angels Petite Sirah is very dark purple (nearly black) and boasts savory aromas of ripe, dark berries (blackberry, boysenberry, raspberry), violets and ripe plum, with a hint of roast game. Abundant fruit flavors in this well-structured wine are nicely integrated with toasted oak and a touch of black licorice.
The label art was created by Jacob de Backer in 1591. The theme of the piece is the hilarity of inebriation and the trauma of the morning after. Excessive joy must be countered by equally excessive sorrow with penitential atonement for pleasure.
The grapes for Two Angels come from the renowned Shannon Ridge Vineyards in Lake County, California. This area is reminiscent of the Rhone Valley's Crozes-Hermitage, with all the grapes coming from a vineyard with a slope of 40°. The fruit was all hand-picked and hand-sorted before cold soaking and a long, cool fermentation. The wine was aged for ten months using 25% new French oak.
Serve at room temperature with robust dishes, including beef, venison, turkey, game birds and semi-soft or hard cheeses.
$25 Level
Agricultura Alentejano Red
This is a new wine for us and picked for wine club by Laura and Emily. It is an import from Michael Skurnik, one of our favorite importers and comes to us from Portugal. And yes, another adventurous wine for 2014.
Agricultura is made with sustainably grown grapes. It is a blend of 30% Touriga Nacional, 40% Trincadeira and 30% Aragonez (AKA Tempranillo). Agricultura's most marked characteristic is its freshness. The wine comes in at a very manageable 13.5% ABV and exhibits an appealing combination of red and dark berry fruits. This wine is eminently quaffable with a sneaky complexity that is rare at this price point. Agricultura will complement a wide variety of foods, chicken, game or pizza.