Wine Club Selections for January
$35 Level
Bodega Puig Dominicus, Priorat, Spain 2008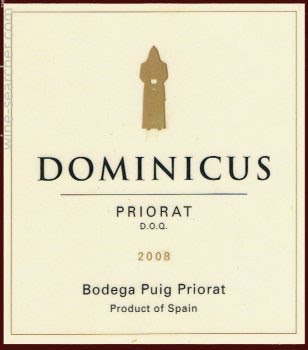 Wow! I never tire of sexy Spanish reds. Our first selection at the $35 level comes from one of my favorite regions in northeastern Spain, the Priorat. Priorat producers put forth some pricey, amazing wines. This one is an exception, amazing but not overly pricey.
Priorat's powerful, full-bodied red wines reflect the heat of this arid region and the structure that comes from mountain-grown grapes. This full-bodied red bursts on the palate with mouth coating red plum, cherry and licorice flavors. The finish is velvety. Despite the wine's intensity, it is graceful, polished and surprisingly fresh, thanks to lively acidity.  The blend is Grenache, Carignan and Syrah.  Pair with rich and spicy winter stews, lamb and even hearty pork dishes.
Both Levels:
Vin du Lac Red Café Syrah, Columbia Valley, Washington 2009

Our main wine at both levels is this medium-bodied Syrah from the Chelan region of ColumbiaValley. Complex notes of plum, spice, dark chocolate, cedar and smokiness give way to bright red fruit notes on the palate. Decanting will greatly enhance the length and intensity of the finish with floral notes of lavender and lingering bitter chocolate.
This versatile red will pair with a variety of foods, and its clean acidity makes it a fabulous choice for duck and wild boar sausages. Another winner for a great price!
$25 Level
Choose one of the following from one of Italy's most ingenious winemakers, Bibi Graetz. He is an artist turned winemaker. Without any formal training and with initially only a small 2 hectare vineyard on his parents' property overlooking Florence, he has managed to unceremoniously gatecrash the staid Tuscan wine scene. The following wines are two introductory levels of Bibi's and both are dynamic.
Bibi Graetz Casamatta Rosso, Tuscany, Italy Non Vintage
Our red option at the $25 level is an interesting non vintage Sangiovese. It is made Solera style by adding young wine to barrels of aged wine creating a complex and interesting red. Light-bodied with notes of tobacco, violet and ripe cherry in the nose, this wine bursts with fresh, clean acidity and balanced tannins making this an exceptionally food-friendly red. Pair this with simple red sauces and pizza.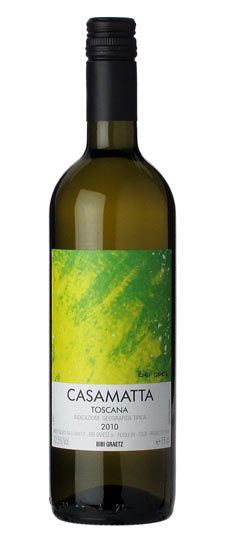 Bibi Graetz Casamatta Toscana, Tuscany, Italy 2011
Our white option at the $25 level is a Tuscan blend of Vermentino and Moscato. This will be one of our adventure wines! The wine is pleasantly crisp with a slightly floral nose and fresh nectarine, apple and lemon on the palate. This is a straightforward, easy to drink white wine and a great choice for salad, lighter pasta dishes and seafood.