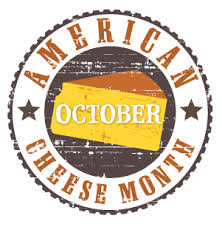 The month of October is American Cheese Month, a celebration of North American farmers and cheesemakers.  All month we will be introducing new American-made artisan cheeses and promoting some of our favorites. Every Wednesday and Friday we will offer 10% off all purchases of made in the USA cheese.
One new and interesting cheese that recently arrived is Teleme (Tell-uh-may). It is a mild, brie-like cheese with notes of crème fraîche.  A perfect melting cheese for risotto and pizza or simply melted on toast and served with your favorite jam for breakfast. How about a pear, prosciutto and Teleme panini or grilled sandwich?
Check out the following website for more fun ideas!
http://www.americancheesemonth.org/october-american-cheese-month/
Mention this post and receive 15% off the purchase of Teleme while we have it in stock. Also pick up a copy of the recipe for Grilled Venison with Teleme Cheese Risotto and Blackberry Sauce.